Manufacturers are not known for their Marketing skills.
As Manufacturers, we're known for making stuff, not talking about it!
Last week, we wrapped up our blog series on Marketing for Manufacturers, where we shared the process we used to apply the StoryBrand Framework to our Marketing.
Here's the synopsis of this marketing methodology: Reframing your message so that you're inviting your prospective Customer into a compelling story as the Hero and positioning your company as the Guide that will help them solve their Problem to win the day.
Completing the elements of the StoryBrand framework can inform all of your Marketing communications and build a process by which you'll have prospective Customers seeking you out for your help, rather than chasing them as you did in the past.
One question that came up in response to the blog series was about our own results at Bowden Manufacturing after integrating the StoryBrand framework and how you will know the new approach is working?
Today's blog will highlight the results of the past three years as we've made tremendous progress in our marketing, even though we feel like we're just getting started. We'll highlight two main elements of our results here: Website Traffic and New Customer Acquisition & Sales.
Increased Website Traffic:
Prior to StoryBrand, our website was typical of most Manufacturing websites. It was essentially an online brochure. The titles of our main pages were:
– Who We Are
– What We Do
– How We Do It
– Equipment List
– Get a Quote
Not particularly surprising, but when I read about the StoryBrand framework and asked the first question:
Looking at your website for 5-10 seconds, who would you say is the Hero of the Story?
The answer was very obvious……we were the Hero of our website! Of course, that wasn't a surprise to anyone and until I learned of the StoryBrand Framework, it made complete sense to me. Unfortunately, when you're the Hero of your own website, it doesn't really invite anyone else to engage.

So, we completely overhauled our website and began to use the StoryBrand Framework to start strategically Marketing our business.
Web traffic isn't always the best metric, but obviously, if nobody's going to your website, it doesn't matter much what's on it. Prior to the change, we had negligible traffic on our website. Early in the process, we established two additional websites to market our products and services more effectively.
The traffic results are shown below in the growth of both new visitor sessions and returning visitor sessions from practically zero to thousands of daily visitors.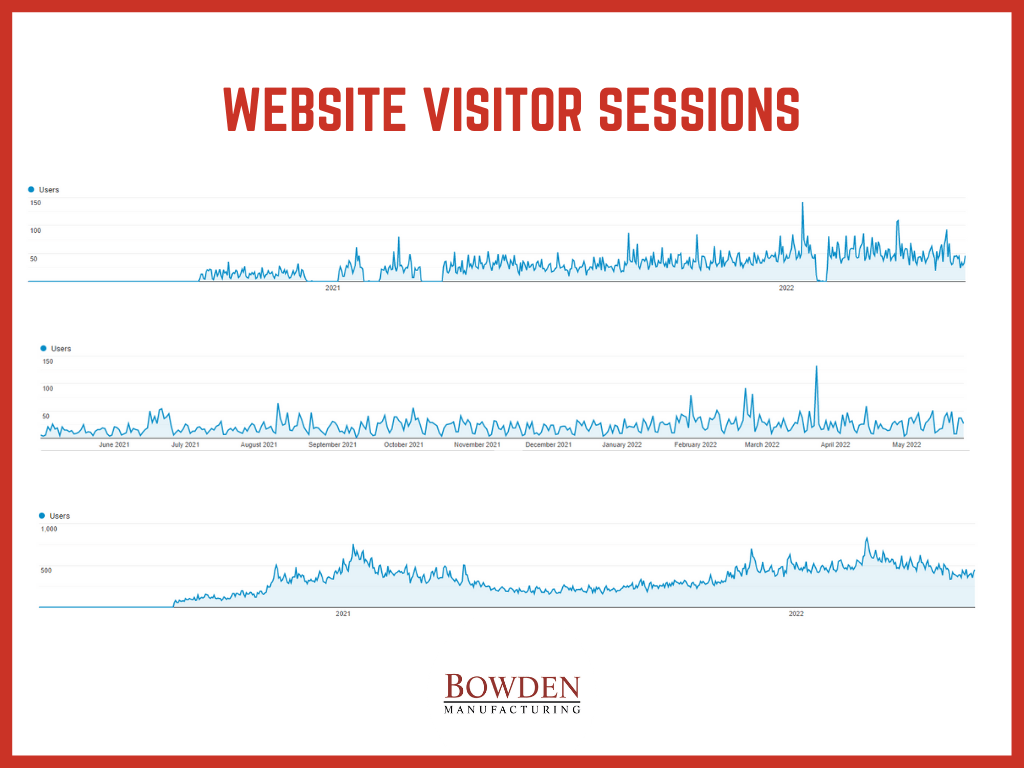 The seasonal nature of some of our industries is obvious, but it's exciting to see the positive trend continuing as we work to further grow our online traffic! We plan to do this by repeating activities that are working well and trying new things to enhance our Customer experience both with our website and buying journey.
New Customer Acquisition & Sales:
Question: Who cares if website traffic goes up if it doesn't lead to new Customers and growing Sales?
Answer: Nobody!
The changes we made needed to translate into acquiring new Customers and growing Sales or the changes don't matter. If you've got a pretty website and Marketing materials, but nobody is buying your stuff, it's just an added cost.
Below is the graph of our New Customer Acquisition history going back to 2017 (two years prior to implementing the StoryBrand framework for comparison purposes):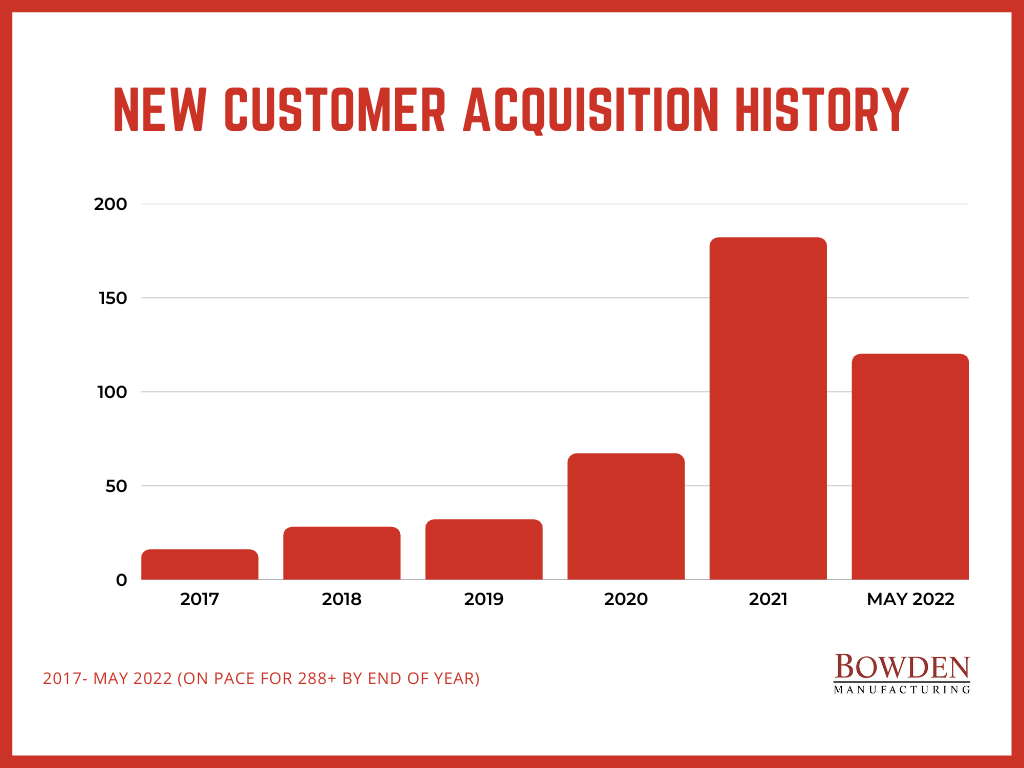 The results have been pretty dramatic, especially in light of the pandemic.
Simply put, we have added new Customers at a growing rate since we started applying the StoryBrand Framework in late 2019.
These new Customers didn't always turn into huge players for us, but by providing meaningful Sales they certainly helped keep us afloat during the downturn of the Aerospace industry during the pandemic.
How did that translate into Sales volume?
Here's the graph of Sales just from those new Customers: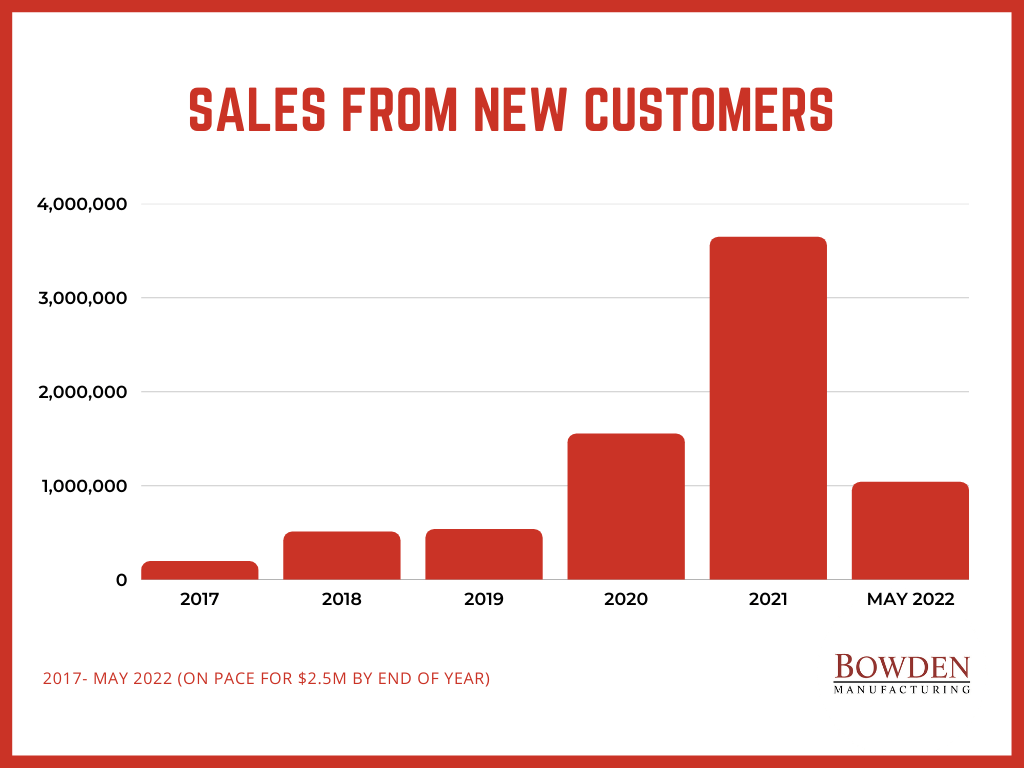 Again, the results are pretty dramatic, and for us, they were desperately needed due to the downturn of the Aerospace industry during the pandemic which is still struggling to recover.
In the midst of some serious inflation and some down markets, we're still adding new customers every week as we continue our steady Marketing efforts.
Learn More About Applying the StoryBrand Framework in Your Manufacturing Business!
The response to our blog series has been very positive so we're going to host an online Marketing for Manufacturers Workshop on Thursday, June 2nd, at 3:00 pm EST.
Just like the three people who told me about Donald Miller's book, Building a StoryBrand, we're excited to help other Manufacturers understand and use the StoryBrand Framework.
I'll lead the discussion and we'll use examples and workshop the language you can use in your own Marketing message.
I've invited our StoryBrand-Certified Guide, David McAndrews to host it with me. Dave and his Team have been instrumental in achieving the results we've seen and have set us up for continued success in the future.