Your Best Year Ever: Manufacturer's Edition
My Resolution Story
When I was a kid, my dad sat us down as a family in early January to write out our Goals.
The format was loose, but we had to come up with at least 5-10 items on the list.
Depending on the year, it varied from easy (elementary school) to painful (some of the high school years), but we always got them all down on a single sheet of paper.
The combined list was posted on the bathroom mirror so we'd all see it every morning when we woke up and every evening before we went to bed. That consistent reminder kept the goals in our consciousness throughout the year.
The annual family ritual didn't last as we went away to college. During my early work life in the Navy, I similarly didn't have any kind of annual goal-setting process. We were moving a lot and starting new roles in new places seemingly all the time (that's the Navy life!) so at least there were always new, short-term challenges to conquer. It wasn't until our kids got big enough to participate, that the annual family goal-setting tradition was restarted….this time with our kids.
Our kids would put together their list of goals each year. Then, we'd post them on their bathroom mirrors. Over the years, the process stimulated many helpful, and sometimes challenging, conversations that certainly helped me gain insight into their hearts and minds. Looking back, it's funny to see how many of those family practices made the transition to this next generation.
Now that our kids are older, we don't do the ritual as a family anymore. It's back to just being a Dad thing, as I've continued to know there's value in the process for me. These days I've refined the process using a few tools that have helped me continue to grow and develop each year.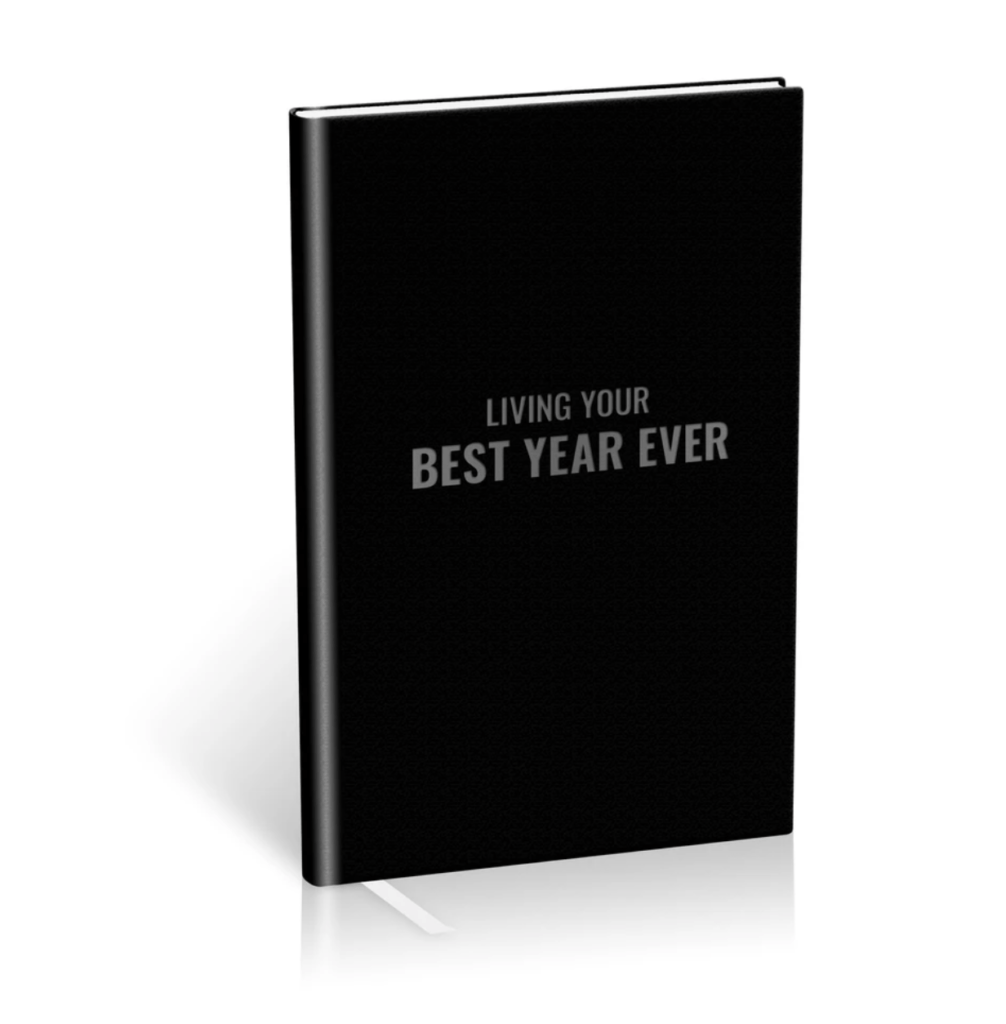 The biggest influence on my practice has been Darren Hardy's workbook, Living Your Best Year Ever. I've added and modified a few aspects of the program, but his system is the underlying foundation for what I do each year.
There are three main steps to my process that have helped me set each New Year up for personal growth and development. They're not complicated, but it's important to take enough time to complete the step, even when it gets difficult.
Step 1 – Reflect on Last Year
There are three main aspects to this step: reviewing the progress on last year's goals, reviewing everything that happened last year, and making a Gratitude List.
Each of these steps is important, as time is fleeting and your memories are quickly overrun by each new day, week, and month.
Last year's goals should still be front and center as the year draws to a close. The success or failure in achieving them is less important at this point than understanding the reasons why you produced the outcome you did … good or bad. Understanding your performance should help you to either make better goals for the upcoming year, or it should help you to identify some of the limiting factors that you'll need to resist for a better outcome in the upcoming year.
Reviewing all the events of last year is both a fun reminder and a great way to gain some perspective that will help with your mindset as you start to look ahead to next year.
Three things that can help you with this are your calendar, your photos, and your social media posts.
Both seeing the images and how you shared them with others will bring back a flood of memories and have you in a good spot to proceed.
Finally, listing everything that you are grateful for is a final important reminder before looking ahead to next year. Once again, you'll be reminded of so many things that are positive in your life and you'll be ready to start planning for next year.
Step 2 – List Potential Goals and Narrow the List to the Big Three
With your mind in a good spot after reflecting on last year, it's time to start listing ideas for the future. Don't limit yourself to just the year that's about to start. Expand your horizons a bit, as it will help you get more creative about what you'd like to do. Assuming you had at least up to 10 years will help stimulate plenty of thoughts.
My experience is that you'll be able to start going pretty quickly on the first few, but at some point, you'll slow down. That's totally normal and a few prompts can help you.
Review the following areas for potential goals: Family, Physical, Business/Job, Mental, Financial, Relationships, Lifestyle, & Spiritual. Consider how you will spend your time, your money, and your attention.
Hopefully, you can make a list of at least 40-50 potential goals that cover the above areas.
Next, take a few minutes to label each goal based on the number of years you expect it will take to accomplish: one, three, five, or 10. You may find that your list is a bit unbalanced and that can help fill in some gaps.
Typically, we tend to dramatically overestimate what we can accomplish in one year and dramatically underestimate what we can accomplish in 10 years, so you should thoughtfully review the list one last time before you move on.
Finally, you need to narrow down the list to the top three goals for next year. Getting to three is tough when you start from 40+, so start by narrowing it down to around 10. It can be helpful to use the areas above (Family, Physical, Business/Job, etc) and narrow the list down to the most important in each area. You mustn't concentrate your top goals all in the same area, as that can be too limiting on your growth and your life.
Getting to the final three goals isn't easy, but it's extremely important as you need to focus if you want to achieve your goals. If you try to focus on any more than three, you'll end up focusing on none.
Step 3 – Set up the Plan for Success with Consistent Tracking
Once you've established your Big Three Goals, there are three things to do to set yourself up for success: Make the Goals SMART, identify the Critical Actions needed to achieve them, and set up your Tracking System.
You've most likely heard about SMART Goals, so I won't belabor the point here, but your Goals must meet the following criteria:
They must be Specific – So clear anyone can understand them.
They must be Measurable – Anyone could see if you achieved them.
They must be Attainable – They should stretch you, but not so much that they seem impossible.
They must be Relevant – They must be priorities in line with your overall Mission, not things you may regret achieving due to disruption in other areas of your life.
They must be Time Sensitive – For most of them, they must be completed within the year, but the timing must be clearly spelled out.
Once you've revised them to meet the SMART criteria, you'll need to set some milestones for progress and identify up to three Critical Actions you'll need to do each week to stay on the path toward achieving each Goal.
Behavior change to accomplish new things is about building new habits that move you in the proper direction. Identifying the behaviors you need to build into habits is a big step forward.
Some examples of these behaviors might be:
To achieve a Financial Goal of having a $2,000 saved by the end of the year, you may count the number of times you put a $5 bill in your piggy bank at work instead of getting a Starbucks coffee.
To achieve a Physical Goal of reaching a specific weight by the end of the year, you may count the number of glasses of water you drank each day.
To achieve a Relationship Goal of keeping in contact with your five closest friends, you may count the number of notes or calls you made to any one of them each week.
Having 1-3 of these Critical Actions for each of your Big Three Goals will bring awareness of your behavior once you start tracking them.
Finally, it's time to set up your Tracking System to ensure success.
Final Thoughts
Early on and for the first 4-5 years, I used Darren's Living Your Best Year Ever workbook.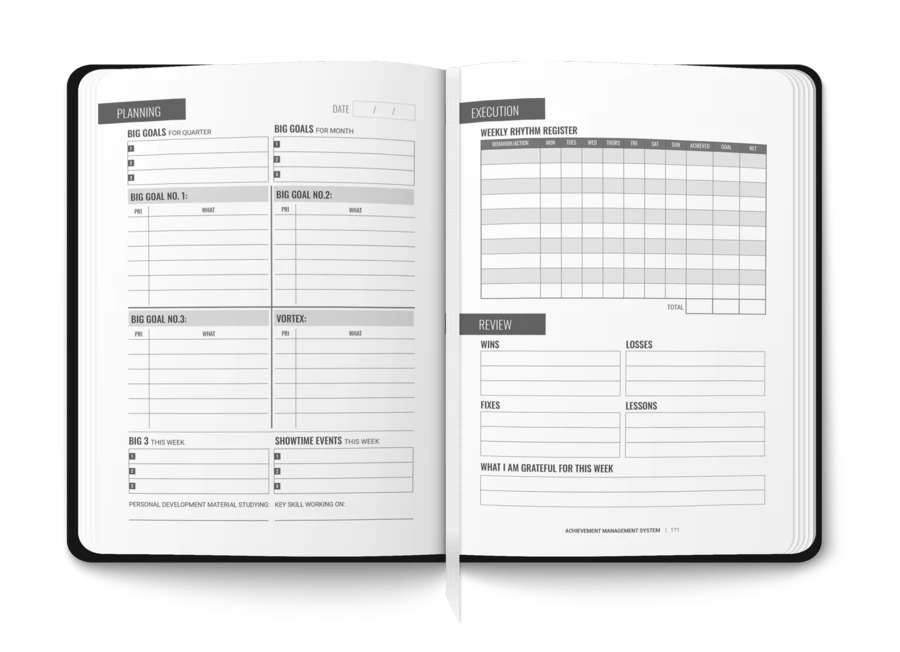 Somehow, making paper Xs on the boxes each day and each week was very satisfying. It helped me focus on the process and get traction on myself to develop the tracking habit.
Slowly, I was less worried about falling off track and we started building a Google Sheet that our Team uses to help create some additional accountability. Now we track each other throughout the week and review our progress together each Friday.
You'll have to figure out the best way to stay on top of it and build it into your routine.
It will be amazing to see how the simple process of tracking your activities each day and reviewing the results each week can change your life.
We're wishing you the best of luck as you wrap up this year and set a great course to make 2022 your best year ever!