As we add to our years and get somewhat settled down in our lives, it's rare when we have the opportunity to try something new. In fact, we're often very resistant to anything that takes us very far from our established comfort zone. Trying a new experience or learning a new skill can be scary, for a variety of reasons, but too often it's simply because we fear being embarrassed.
Last week, I had the opportunity to try something new and I was pretty sure that embarrassment was going to be included! I was headed out to Utah and my youngest daughter, Abby, and her friend, Zeia, were going to take me canyoneering for my first time. Not only was I likely to do something embarrassing in front of them, but I had some fear for my physical safety as well!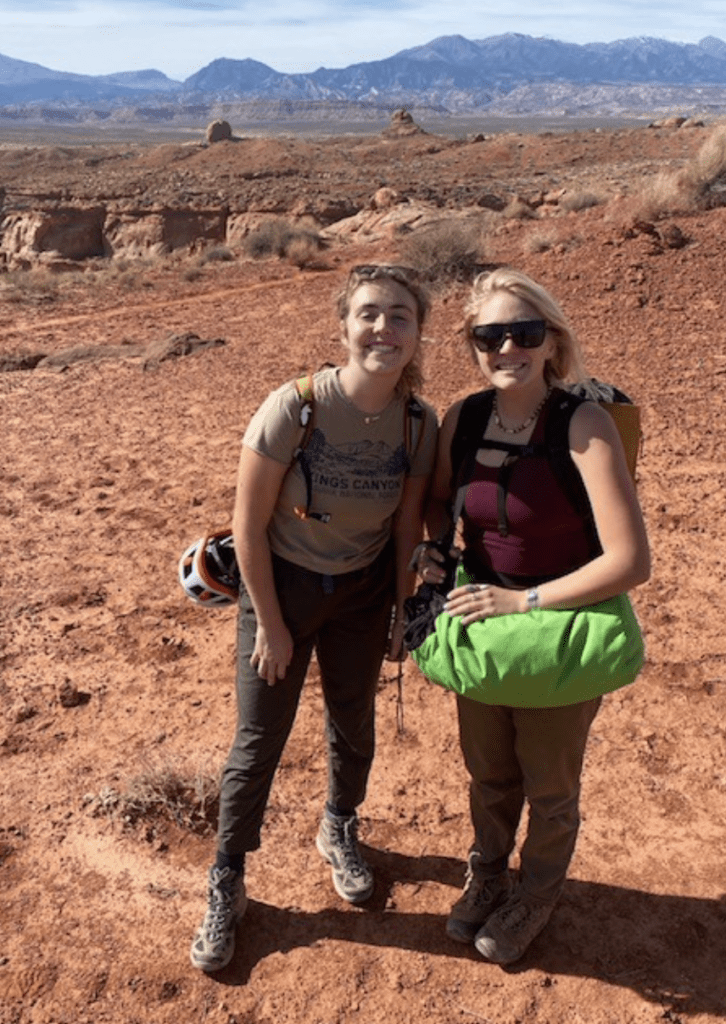 Canyoneering, for those of you that don't know (as I didn't before she explained it to me!), involves descending through a long slot canyon in the desert. Typically, you are wearing climbing harnesses and often need to rappel in various sections, as necessary to get down. Fortunately, Abby & Zeia planned our trip well and we were canyoneering down pre-determined routes that were well laid out in an online guide. Still, having never done any rappelling before, I knew it would be quite the adventure for me.
Abby, a junior in the Parks-Recreation-Tourism program at the University of Utah, assured me that it would be great fun and she was certainly excited to show me some of her new world. I reminded her how old I was but she seemed to think I'd not only survive, but I'd enjoy the experience. She was right.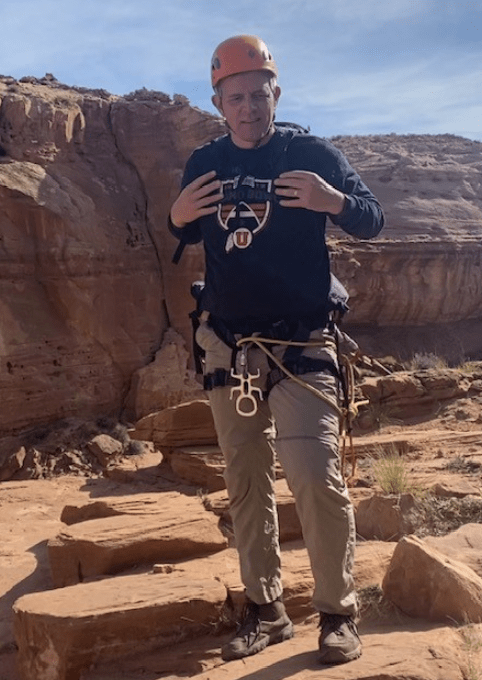 After a 4-hour drive from Salt Lake City, we arrived at our first trailhead under clear skies with a light breeze and 65 degrees. Both of my guides had done this route in their training classes, so they were very confident that it was a great place to start my training, too. Putting on my harness for the first time, my training began by "rappelling" off the back of Abby's truck. I'll admit feeling a bit silly in the parking lot (there's that embarrassment thing …) but I was more scared of not knowing what to do when I was up on the canyon. Our brief lesson lasted just a few minutes and I was pronounced ready to go … I wasn't so sure, but I deferred to my trainers.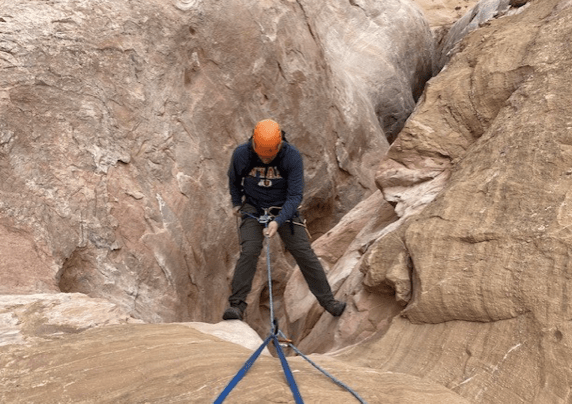 We hiked up to the top of the canyon and the views were spectacular. They just don't have deserts or mountains in Ohio! Reaching the top of the route, it was more open than I expected and we quickly reached the top of the first rappel. I learned that you need two knowledgeable people to do a rappel correctly, one to go first and one to go last, and I was happy to be the one in the middle!
As the girls set things up, they talked through all the safety checks and procedures that we were doing both as a checklist for themselves and a way to help me understand what was going on. Zeia measured out the 35 feet of rope we'd need and sent it over the side. She completed her preps and the next thing I knew; she was over the side and descending. I knew I was next and I was trying to stay calm. Abby helped me get everything ready and continually provided encouragement as I eased my way over the edge.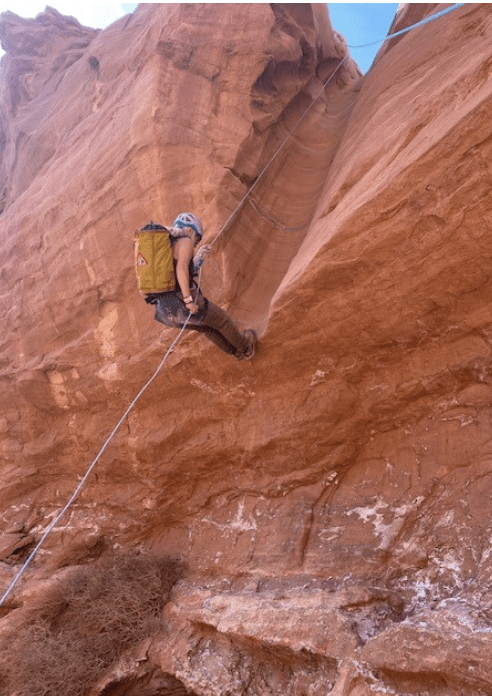 I was not graceful, but I got the job done. It was both scary and exhilarating to make it to the bottom! After disengaging from the rope and getting a high five from Zeia, I was able to smile and relax a bit. In short order, Abby came over the side and showed me what it was supposed to look like when you come down.
We camped in the desert under the stars that night, watching the almost-full moon rise overhead, lighting up the beautiful landscape. It had been decades since I'd been tent camping and never in such a place … piling new experiences on top of new experiences.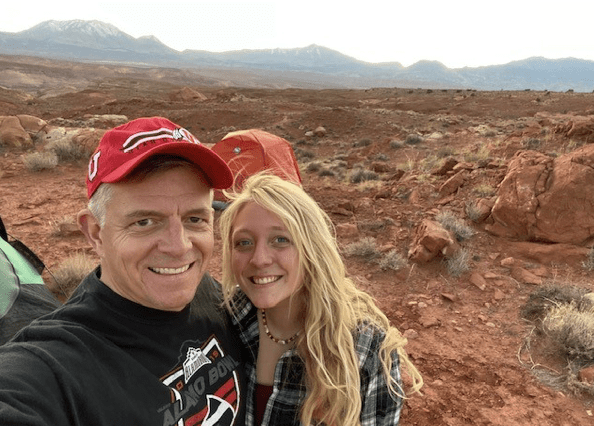 Our canyon the next day was new to the girls and their excitement was contagious. The rappels were longer, as was the climb back up to the car from the bottom, but it was a time I'll treasure for years to come.
It's not easy to push past our fears and we certainly don't want to be reckless, but my canyoneering experience was unlike anything I'd done before. It made me realize that embracing this new opportunity was a blessing to me. I don't much remember being embarrassed in the beginning and it turned out to be much safer than I had expected.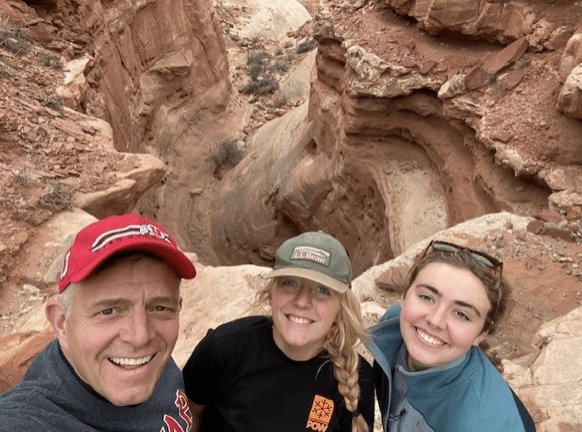 It seems that's the pattern for most new stuff that we try. At first, everyone's a beginner, but as soon as we advance far enough so we can't remember how awkward we felt starting … we just enjoy the activity. Of course, in those new circumstances, it's helpful to have extremely encouraging guides leading the way, as I did with Abby & Zeia.
I hope this story encourages you to try something new. Push past your fear, especially your fear of embarrassment, and give it a shot. Regardless of the outcome, you'll learn more about yourself in the process and it will open your eyes to new possibilities. Good luck!