3 Ways Manufacturers Can Expedite Their Compliance
According to recent data, it takes 12 positive customer experiences to make up for a single bad experience. As a business owner or entrepreneur, it is crucial that you are giving your customers every reason to do business with you – and then do business with you, again.
With supply chain disruptions and the challenges coming out of the pandemic, competition for customer loyalty is at an all-time high. Creating and sustaining practices that encourage loyalty and repeat purchases are essential to growing your business and boosting your bottom line.
Cybersecurity has risen in popularity over the last decade, thanks to the continued growth of online businesses and a consistently expanding online economy. As more customers turn to the internet to buy and sell products, you can set your business apart by learning how to institute practices that protect users and keep their information safe.
Understanding Cybersecurity and How It Impacts Your Business
According to the Identity Theft Resource Center's 2021 Data Breach Report, there were 1,862 data breaches in 2021, blowing past 2020's total of 1,108. That same year, data breaches were up by 68% nationally, with the average breach taking 287 days to locate.
And these occurrences don't come without a price tag: IBM reports that the average cost of a company data or ransomware breach hovers around $4 million.
Additionally, if you want to be doing work for DOD and larger Defense or Aerospace contractors, you are going to need to up your Cybersecurity game. Similar to Aerospace certifications like our AS9100, these Cybersecurity standards will soon become more and more commonplace. Better to deal with it now, so you can get ahead of the game.
So, how does one prevent this kind of chaos?
Answer: by safeguarding your business' programs, data, and information, you can keep your's and your client's information private, prevent leaks or security breaches leading to expensive lawsuits, loss of profit, public fallout, and expensive business interruptions due to email viruses and/or other forms of hacking.
How to Become Cybersecurity Compliant

The steps to becoming recognized as a Cybersecurity compliant business can be found in-depth HERE. The following are three 10,000-foot view guidelines for how to apply and expedite the process of attaining compliance.
1. Select a Provider and Apply for a Grant
At Bowden, we utilized assistance for both selecting a specialized provider and then applied for a grant through the Department of Defense's DFARS mandate in accordance with NIST 800-171 which covered 50% of our compliance costs.
Depending on the state your business is registered in, you may have access to financial assistance to expedite the processing of your compliance.
2. Get Your Team Involved
Any time a business institutes a set of company-wide compliance mandates, engaging employees should be the number one priority.
Inviting your team into the compliance process by asking for their input and collaboratively rolling out regulations will build a greater sense of personal responsibility. For example: at Bowden, our cyber compliance mandates clearly indicated the prohibition of cell phones on the shop floor. That was a big requirement that could have been an extremely upsetting change to our Team.
Rather than putting up "no cell phone" signs one night while employees were at home sleeping, we rolled out a process that involved adding radios to the shop floor, a new office emergency phone line, and custom storage cubbies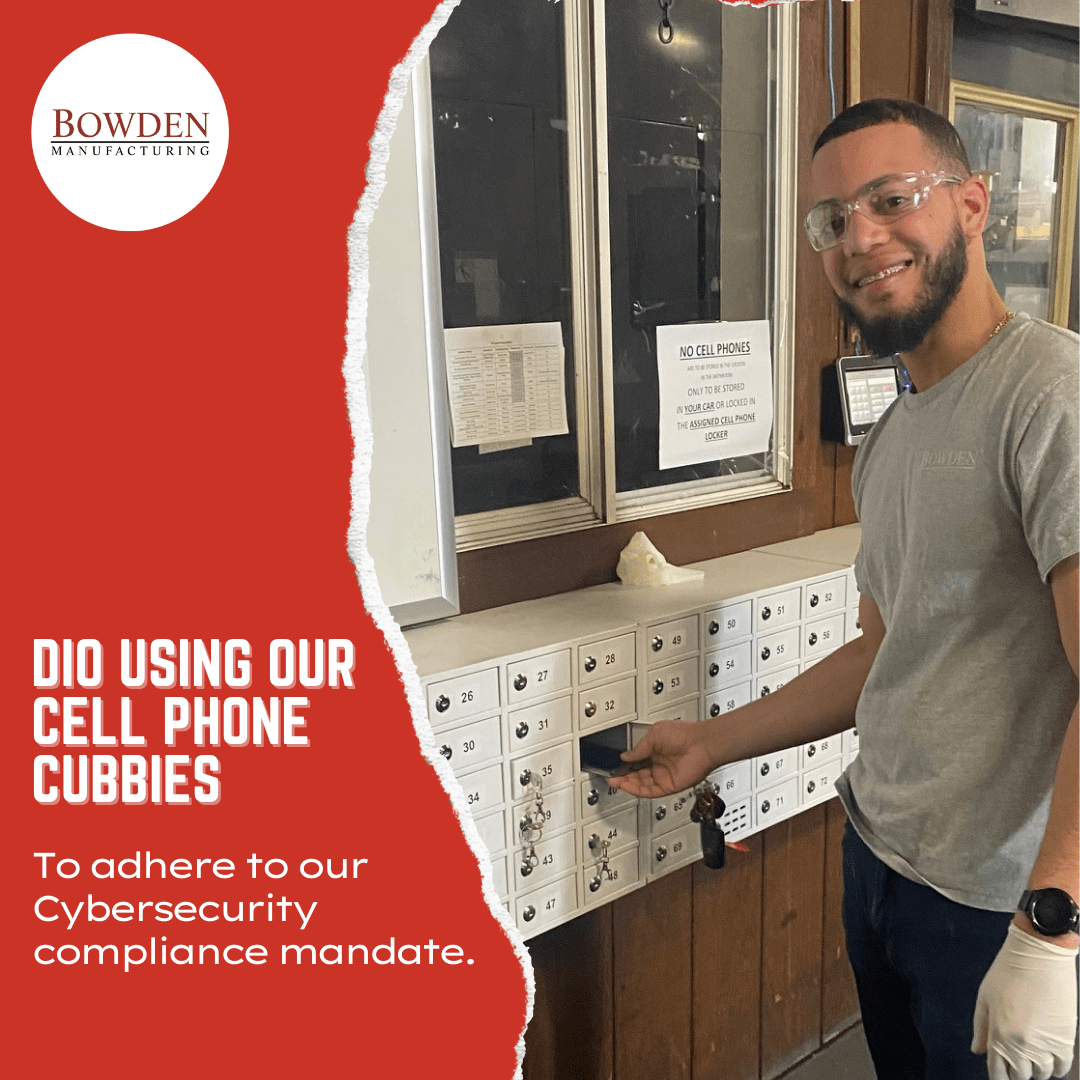 Bottom line: the more the process is a collaboration, the higher the rate of success.
3. Share the News With Your Customers
Customers want to know you've taken steps to increase your security measures, as well as any changes they can anticipate while interacting with you electronically. Let Customers know about your Cybersecurity compliance by sharing the news in email and on social media, in addition to making your compliance a selling point on your website and product listings.
Certain customers will only do business with companies or manufacturers who are Cybersecurity compliant. You can attract these buyers by making it easy for them to find your business and compliance registration.
Benefits of Cybersecurity Compliance for Your Business
While attracting the business of customers in search of compliance is certainly a plus, there are several additional benefits to being a Cybersecurity compliant company.
1. Improve Internal/External Systems
Oftentimes, the road to becoming compliant also paves the way for long-forgotten processes to be reevaluated. As you move through the process of Cybersecurity compliance, you will have the opportunity to revisit many procedures and regulations that may be in need of an update or overhaul – resulting in a more streamlined, up-to-date company model. Prior to getting our upgrades, we had several incidents where we lost portions of our servers and/or a few of our PCs due to a cyber attack. The disruption and hassle were significant and we're certainly in a better spot now. Glad that our risk of dealing with that is now significantly reduced.
2. Protect Networks and Data From Unauthorized Access to Company or Customer Files.
Increased Cybersecurity measures lessen the likelihood of expensive data breaches and unauthorized access to company files. You can proactively protect your investments and sensitive information from costly Cyber attacks without having to worry about how to clean up the mess on the back end.
3. Increase Customer Satisfaction
Customers may not understand the nitty-gritty details of Cybersecurity, but they absolutely want to know they won't become victims of Cyber scams simply because of doing business with you.
Whether your goal is to attract new customers or retain existing ones, Cybersecurity compliance is a sure-fire way to boost overall trust and bolster the authority of your online dealings.
Bowden Manufacturing is proud to be compliant with the Department of Defense's national protocol for Cybersecurity compliance.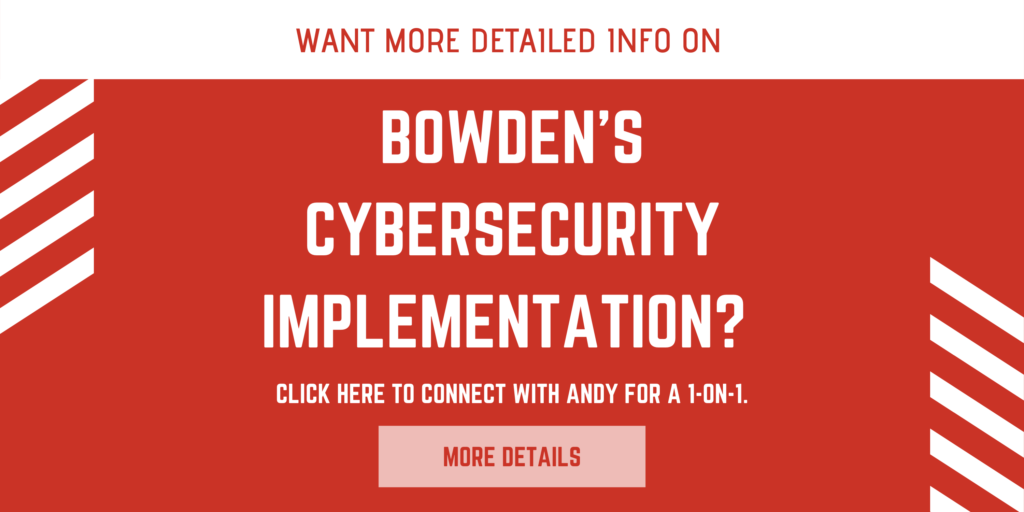 Searching for a DOD cybersecurity compliant and trusted manufacturer that delivers the same feel and familiarity as an in-house machine shop? Contact us today!