Part 3 – The Product Brief – Is Your New Product Worth Bringing to Market?
Introduction
Do you have a robust process to determine whether a new product will really benefit your business?  It's easy to say "Yes!" to a Customer request for help that might be adjacent to your current product, but isn't part of what you currently provide.  Your natural inclination to take care of your Customers and to solve problems for them is admirable, but it can also get you into trouble if you don't perform the due diligence to ensure it's a good move for your company.
In this Series, we're reviewing the 6-Step Plan to run your business from Donald Miller's latest book, How to Grow Your Small Business, and the online platform at businessmadesimple.com. The analogy of an airplane helps describe the 6 Steps and this week, we're continuing with another installment in Step 4, the Wings, your Products.
Let's face it, your Customers are buying your products in order to solve a problem.  Your specific product, though, may solve only part of their problem.  In this blog, we'll review the second aspect of the Wings of your business airplane (Your Products) to look more closely at your Customer's reasons for buying your product, and how you might be able to offer additional value to help them more effectively and completely solve their problem.  By expanding the scope of your offering based on a more encompassing solution to their problem, you'll be surprised to see how many more people want to work with you.  You'll be adding additional "lift" through enhancing the problem-solving value of your best products that will carry your small business airplane to new heights.
Step 4 – The Wings (Your Products) – Review Any New Product Ideas BEFORE You Launch Them!
The Product Brief Worksheet – Due Diligence to Protect Your Airplane When Launching a New Product
The larger your organization gets, the more confusion and frustration can happen when launching new products.  Even in a relatively small company, there is risk associated with a new product and the resources it will consume to be launched into the marketplace.  Filling out the Product Brief Worksheet initiates a process that will force you and your Team to perform the appropriate due diligence before you launch the product.
Completing the Product Brief Worksheet will provide detailed answers to the following questions:
Will the product interfere with current revenue streams?
Will the product confuse Customers?
Will the product be profitable and sustainable?
Will the product bloat overhead?
The purpose of the Product Brief Worksheet is to create doubt in the product as a potential offering for your company.  Usually, new product ideas are full of optimism, or they are the result of a specific Customer request.  In either case, there is strong bias to launch the product.  The doubt created by the Product Brief Worksheet can bring a more rational and less emotional perspective.  It doesn't mean you won't launch the product, it just means that you need to take the time to answer some important questions to ensure the viability of the offering.

Going through the Product Brief Worksheet in detail forces you to consider the entire scope of how a new product idea and launch will impact your business.  It will add depth to your evaluation and enhance your opportunity for success with a new product.  Even when you confirm that the idea for a new product is very positive, it will help ensure that appropriate preparations are in place to take full advantage of the product's potential.  Most importantly, it will professionalize your operation and limit your company's exposure to new ideas that would detract more than add to the business.
You'll be amazed to discover how using the Product Brief Worksheet will enhance the effectiveness of your product launch process.  Answering important questions and crafting the Sales & Marketing messaging ahead of time will refine how you think about, and talk about, your new product. As a small business, you can't afford to launch very many products that aren't winners.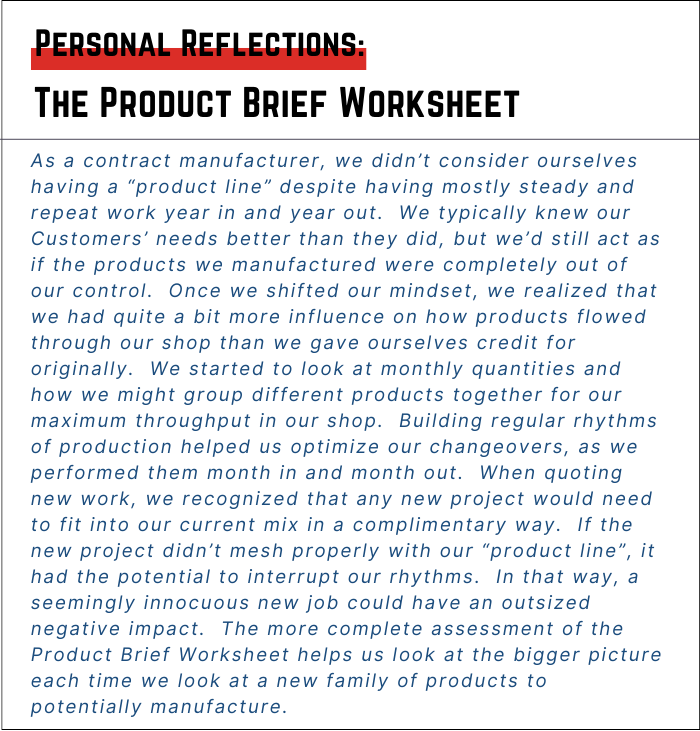 Product launches that are a dud, can be catastrophic.  At the very least, they will stretch your limited resources.  Using the Product Brief Worksheet as part of your new product process ensures your best chance for success when you bring a new product to the marketplace.
Final Thoughts
Step 4 from Donald Miller's book, How to Grow Your Small Business, is the Wings – Your Products.  Your use of the Product Brief Worksheet is the final aspect of Step 4 and will ensure that each new product you introduce enhances your business and grows its success.
The Product Optimization Playbook contained in Step 4 encompasses three critical aspects to your products:
The Product Profitability Audit ensures you use data, not your gut, to determine which products are your most profitable, so you know which ones you should promote the most.
The Product Package Expansion encourages you to dive deeper into the ways your Customers use your product to solve their problem.

 

A more complete understanding of the entire solution can help you package an all-encompassing product package that can reduce their effort and grow your business.
The Product Brief Worksheet brings a professional process to validate new product ideas

,

before they are launched, so that your company has the best opportunity to only bring new products to market that will enhance the business.
Completing Step 4 will ensure the wings of your small business airplane, your Products, are strong and provide sufficient lift.  With products that are profitable and in-demand, you are now ready to move on to Step 5, the Body – Your Overhead and Operations.  You'll learn how to operate your business with just five meetings so that your Team will work together on the most important business priorities for your company.