In this Series, we're reviewing the 6-Step Plan to run your business from Donald Miller's latest book, How to Grow Your Small Business, and the online platform at businessmadesimple.com. The analogy of an airplane helps describe the 6 Steps and this week, we're continuing with another installment in Step 4, the Wings, your Products.
Let's face it, your Customers are buying your products in order to solve a problem.  Your specific product, though, may solve only part of their problem.  In this blog, we'll review the second aspect of the Wings of your business airplane (Your Products) to look more closely at your Customer's reasons for buying your product, and how you might be able to offer additional value to help them more effectively and completely solve their problem.  By expanding the scope of your offering based on a more encompassing solution to their problem, you'll be surprised to see how many more people want to work with you.  You'll be adding additional "lift" through enhancing the problem-solving value of your best products that will carry your small business airplane to new heights.
Step 4 – The Wings (Your Products) – Expanding Your Best Products by Solving the Rest of Your Customer's Problem
Product Packages to Enhance Your Offerings
Whether you have just a few products or more than you can easily count, making sure you understand which ones provide your business the most profit is extremely important.  Too often, small business owners use their gut, rather than taking the time to gather and evaluate real numbers.
Conducting a Product Package Expansion involves 3 steps: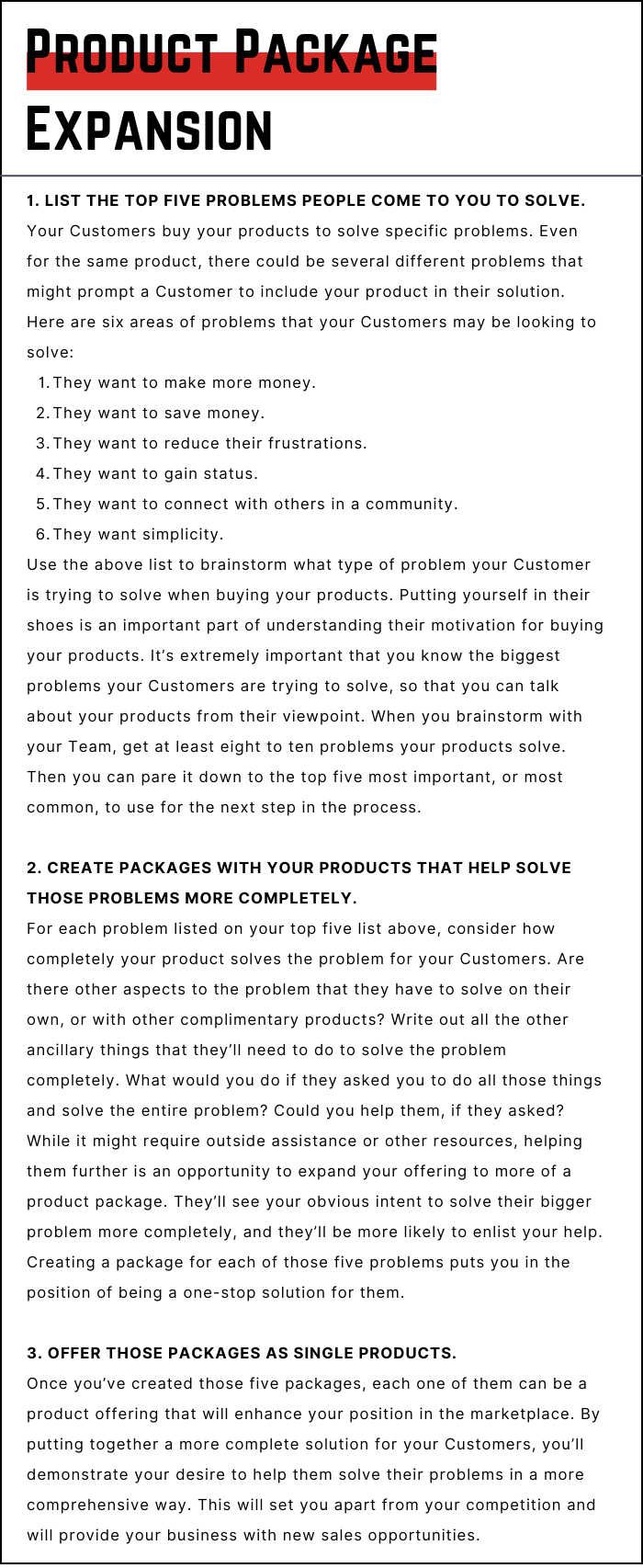 Going through the Product Package Expansion forces you to consider your Customer's problems in depth and identify what they'll need, beyond just your product, to fully solve them. It's an important exercise that can be enhanced by spending time observing and talking with your Customers. The better you understand the challenges they face, the more clearly you can craft a package to serve their needs.
You'll be amazed to discover how using the Product Package Expansion will enhance the effectiveness of your products to solve your Customer's problems.  Bundling additional aspects and ancillary features to provide a more complete solution, will shift your offering to the marketplace in a positive direction.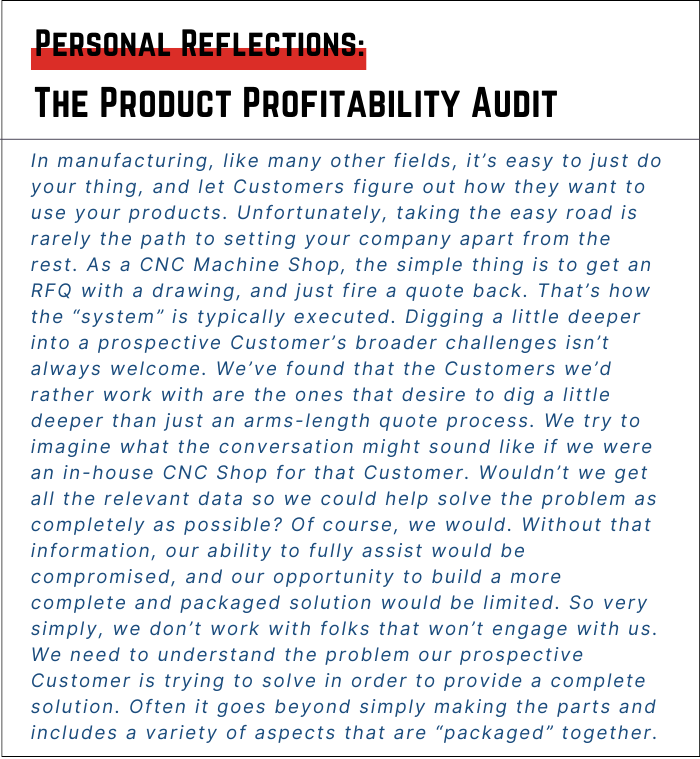 Armed with packages, instead of just your individual products, you'll see new opportunities to separate your company from your competitors.  Your Customers will appreciate your thoughtful approach, and you'll attract more with your comprehensive solutions.
Final Thoughts
Step 4 from Donald Miller's book, How to Grow Your Small Business, is the Wings – Your Products.  Your use of the Product Package Expansion will set you up for the final aspect of Step 4.
The remainder of Step 4 will offer a process to evaluate each of your new products and packages, prior to launching them into your marketplace.  You'll fully assess your product concept through a rigorous framework that ensures you'll meet the needed criteria for a positive outcome when you go to market.  When all your new products and packages are vetted through the recommended criteria, your product "wings" will be strong and provide tremendous "lift" so your business "plane" can fly far and fast.
Want to get your Small Business airplane flying high and fast? Sign up for Flight School today!