Piloting a small business to success requires understanding its intricate components, much like flying an airplane.   We're wrapping up our latest blog series based on Donald Miller's book, How to Grow Your Small Business and the online platform at businessmadesimple.com.  We know the myriad challenges of running a business and we love the way Don has simplified the concepts of equating a business's operational facets to an airplane's parts:
Each aspect of the business is vital, and any single failure can jeopardize the entire journey of the airplane. As a wrap up to our Series, we're going to provide a seven key takeaways from the book, highlighting changes from each section that we made in our business to help drive our growth.
Leadership – The Cockpit
Problem:  Most small businesses don't have written Missions and Guiding Principles that drive behavior and rally their Teams.  We didn't.
Key Takeaway #1 – Get Your Business on a Mission
Mission Statements and Guiding Principles shouldn't be gathering dust on your shelf.  They should be talked about regularly and drive behavior!  Don's Business on a Mission Course helped us narrow down our mission to three Primary Objectives to move our business forward.  For example, our Number One Primary Objective is our production hours and our Team drives after that goal knowing it's helping our Team meet our obligations to our Customers and to ourselves.
Check out the Business on a Mission Course Here: WATCH 
---
Marketing – The Right Engine
Problem:  If you look at most small business websites, they are the Hero of the story you read.  That doesn't invite prospective Customers into a compelling story and if they get interest from the website, it's almost by accident.  This was certainly the case for us.
Key Takeaway #2 – Be the Guide, Not the Hero of the Story
To use the power of Story in your messaging, you need to take on the role of the Guide and place your Customer in the role of the Hero.  You are there to help them win the day!  The StoryBrand Messaging Framework is a powerful seven-part framework to invite prospects into a compelling story.  You (1) Identify them as the Hero, (2) Articulate the Problem that they face, (3) Demonstrate Empathy & Authority to position yourself as a Guide, (4) Show them a Plan to solve their Problem, (5) Call them to Action, so they (6) Achieve the Positive Results they seek and (7) Avoid the Negative Results they are likely achieving without you.  This proven framework is the underlying messaging for all of your communications with your Customers and it works!
Check out the StoryBrand Messaging Framework Course Here:   WATCH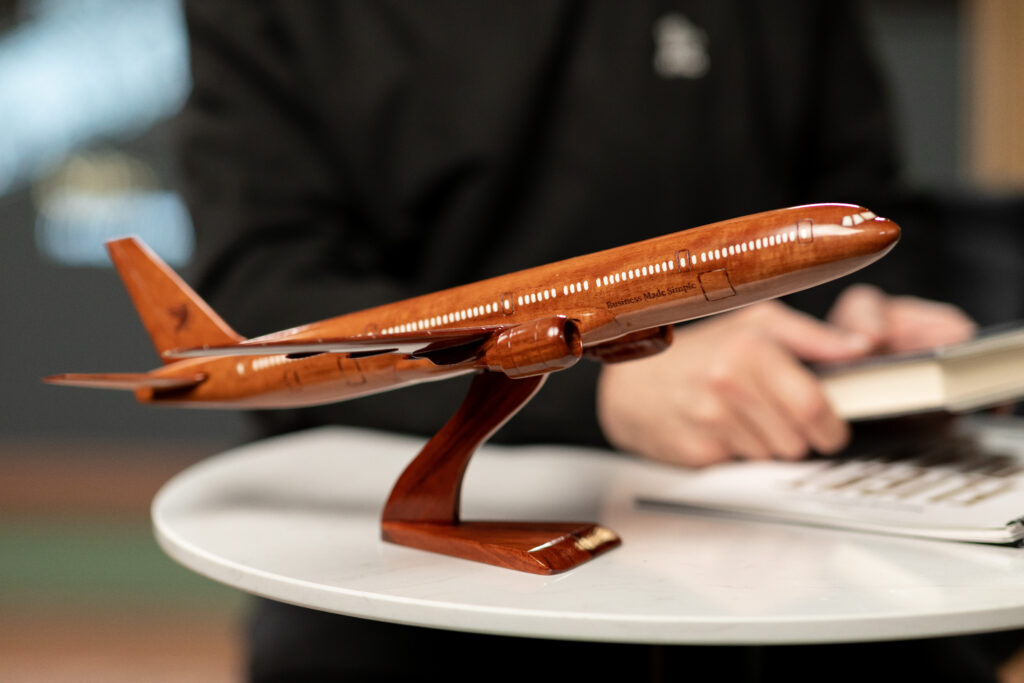 Problem:  Most Small Businesses don't have a consistent means of engaging their Customers and Prospects.  We certainly didn't.  Without a consistent marketing message that engages prospective Customers, you struggle to find them or have them find you.  Social media is supposed to be helpful, but it's often difficult to see tangible results.  These are the frustrations of spending time, energy and money on marketing and trying to justify the return on investment.
Key Takeaway #3 – Build a Sales Funnel to Engage Your Customers and Prospects
The Marketing Made Simple course outlines the five elements to a Sales Funnel that can consistently engage prospective Customers and Customers so your business can stay in their minds as it pertains to the problem that you can solve for them.  The course instructs the appropriate way to use your StoryBrand Messaging to establish your (1) One-Liner, (2) Website, (3) Lead Generator, (4) Email Nurture Campaigns, and (5) Email Sales Campaigns.  The opportunity to use Lead Generators to collect email addresses from your target audience by providing value within your expertise can provide you with a steady stream of incoming prospects to drive your business growth.  Engaging both your Customers and prospects with email campaigns will keep you in their inboxes and their minds when they find themselves with the problem you solve, positioning you perfectly to help them by providing your product or service.
Check out the Marketing Made Simple Course Here:   WATCH
---
Sales – The Left Engine
Problem:  Most Small Businesses don't know how to write an effective Sales script that engages prospective Customers.  We certainly struggled with how to word those emails and phone calls.
Key Takeaway #4 – Use the StoryBrand online Sales Script Tool to Craft your Sales Copy
Once your StoryBrand messaging is in place, the Customer is the Hero Course provides instruction as to how to execute the Sales function in your business.  The big opportunity is the use of the Online SalesScript tool.  The tool provides the elements of a solid SalesScript:  (1) Start with the Problem, (2) Position your product as the solution, (3) Give the Customer a step-by-step plan, (4) Paint the stakes – negative then positive, (5) Call the Customer to action.  This sequence will become your default way of talking about your products and that message will resonate with anyone that has the problem that you solve.  It makes it easy, especially for Small Business Owners that don't really want to be Salespeople.
Check out the Online SalesScript Here:   WATCH
---
Products – The Wings
Problem:  Most Small Businesses don't have a process for evaluating new product ideas. We certainly didn't and it has definitely cost us time and money.  We've launched products that, if we had evaluated them more completely ahead of time, we wouldn't have launched.  We've also taken longer to launch some of our best products, because we didn't put in the extra work upfront to identify all the details necessary.
Key Takeaway #5 – Use a Product Brief before you launch any new Product.
Deciding to launch a new product is an important decision for any business.  Typically, if you, as the owner, think it's a good idea, the company figures out how to get it launched.  If you're like many entrepreneurial business leaders, you have lots of product ideas.  Not all of them will be good, but even if they were, launching without the proper review will make it a slower and more costly process for your company.  The Product Brief provides a series of questions to ensure you've thought through all aspects of the potential product:  (1) The Product Name, (2) The Product Description, (3) The Core Messaging, (4) High Level Marketing Research, (5) The Financials, (6) Sales Projections, (7) Product Validation, (8) Key Dates for the Launch, and (9) the Sales & Marketing Plan.  It may seem a bit laborious, but it has both eliminated products that we shouldn't have launched, and streamlined the launch of products going to the marketplace.
Check out the Product Brief Template Here:   WATCH
---
Overhead – Your Operations
Problem:  Most Small Businesses don't align their Departmental Priorities to their overall Company Priorities in a consistent manner.  As a result, the members of those Departments don't know whether their personal priorities match up with what is needed.  This was certainly true for us.
Key Takeaway #6 – Use the Personal Priority Speed Check with your Teammates to Ensure that both your Departments and All of your Teammates have their Priorities Clear and Aligned.
The Management and Productivity Made Simple Course describes the five meetings that you can use, as a small business owner, to run your business.  A major intent of the system is to have priorities aligned throughout the organization.  This is most clearly seen through the meeting called the Personal Priority Speed Check.  It is a weekly meeting between the Department Leader and each of their Teammates to review: (1) The Three Overall Company Priorities, (2) The Department's Five Top Priorities, (3) The Teammate's Five Personal Priorities, and (4) The Teammate's Development Priorities.  Obviously, to successfully have these meetings, all of the priorities must be clearly defined.  Then the meeting becomes the opportunity to check status and provide guidance as priorities are completed or adjusted.
Check out the Personal Priority Speed Check Meeting Template Here:   WATCH
---
Cash Flow – Your Fuel Tanks
Problem:  Most Small Businesses don't set aside money ahead of time for Taxes or Profit and often wonder where the cash went if their accounting statement shows they are profitable.
Key Takeaway #7 – Using elements of the Small Business Cash Flow Made Simple process for managing your company's finances can ensure you are able to pay taxes without worry from your Tax account and withstand unexpected financial challenges by building up your Profit account.
The Small Business Cash Flow Made Simple course describes managing your company using five checking accounts:  (1) An Operating Expense Account, (2) The Owner's Personal Account, (3) A Tax Account, (4) A Business Profit Account, and (5) An Investment Holding Account.  The use of the accounts is specified within the course, and we certainly benefited from systematically moving cash out of our Operating account to limit any additional expenditures.  If you can see the money, you're more likely to spend it.  The peace of mind that comes from setting money aside funds for future tax payments was unexpected, but very real.  Setting up a systematic means of handling your cash is foundational to the success of your business.
Check out the Small Business Cash Flow Made Simple Course Here:   WATCH
Final Thoughts
Donald Miller's book, How to Grow Your Small Business, and the web platform at businessmadesimple.com use the analogy of the airplane to demonstrate the six aspects of your business you need to master so that it will grow.  In this series wrap-up, we identified the most important aspects from each area, so that you can check out the ways to solve your most pressing business challenges.  We want nothing for than for your business airplane to fly far and fast.  Best of luck to you for ongoing business success!
If you'd like help implementing any of the concepts we've discussed in this series, you can check out any of the links or send us a message through the button below:
Need CNC Machined Parts from a Shop You Can Trust? We're Happy to Help!