Feeling Nervous Before Presenting to Your Boss & Others? Want to Make Sure You're Not Wasting Your Team's Time?
Here's How to Overcome Anxiety & Communicate Efficiently as a Manufacturing Professional
As a young Manufacturing Professional, if you've ever had to speak in front of a group for work, any group, you've probably felt sharp waves of anxiety in the minutes leading up to go-time. The signs of stress are universal: sweaty palms, dry mouth, and feeling like you need to check your notes just one more time, even a dozen times.
As a Manufacturing Leader, you may routinely need to present the latest update at our Team meetings and you want to communicate in an engaging way.  The time with the Team is precious and we can't afford to waste it.
For any Manufacturing Professional, speaking in front of an audience doesn't typically mean giving a TEDTalk; it can be as simple as making a project update presentation at a company meeting, delivering performance results from a work cell at the end of the week, or pitching a new idea to the boss.
But the size of your audience has little to do with feelings of fear; studies show that 75% of people experience pre-speech nervousness, with almost half saying they would rather die than have to give a presentation! 
If you're part of the three-quarters of people who get stressed about public speaking, or if you simply want to maximize the engagement when you're talking with your Team, this series about how to deliver a great presentation is for you.
How to Deliver a Powerful Speech in 4 Steps
New York Times bestselling author Donald Miller says in order to deliver a powerful speech, there are four main components you'll need to stick to: intent, obstacle, plan, and result.
INTENT – What are you trying to inspire your audience to do, grow, avoid, or create? 
OBSTACLE – What roadblocks stand in the way of that intent?
PLAN – What direct actions should your audience take after hearing your speech?
RESULT – What will life be like for you and your audience if you overcome the roadblocks and achieve your intent?
Putting it All Together: Easy as 1, 2, 3
It doesn't matter if you're a seasoned Professional or a newly graduated Engineer—sharing in front of an audience is a powerful opportunity to generate interest, command attention, and communicate a goal. 
Here are the three building blocks of crafting a compelling presentation or speech, using Donald Miller's core ideas of intent, obstacle, plan, and result as the framework.
1. Identify Your Controlling Idea
Your Controlling Idea is the foundation of your message, and your main goal when delivering a presentation.  Very often, the Controlling Idea you're trying to communicate is that the obstacles being faced can be overcome.
Keeping your presentation to a single Controlling Idea will allow your audience to stay with you and make sure the main idea will resonate with them long after your presentation is over.  While it may be tempting to try to add content beyond the single Controlling Idea, straying beyond that will set you up to reduce the impact of your presentation.
Once you've established your Controlling Idea, everything else in your presentation must align with it.  It becomes your filter through which everything must pass.  Anything that doesn't support it must be removed, or you'll risk losing parts of the audience or your message.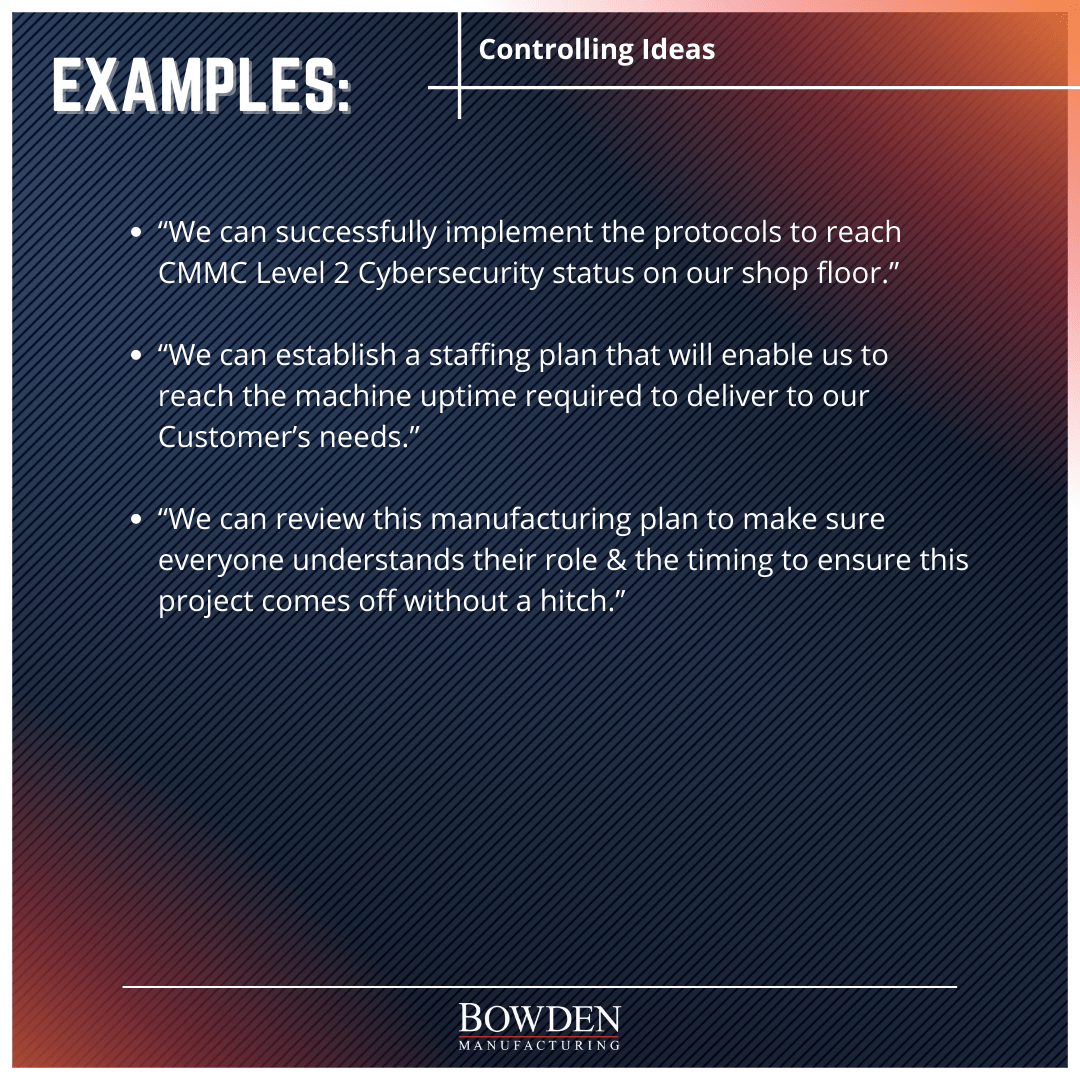 2. Lay Out the Intent/Obstacle/Plan/Result for the Points in Your Presentation
Part of the reason why you might get nervous when delivering a presentation is you're not sure how to best convey your ideas.  Having a solid plan will give you comfort and using Donald Miller's framework keeps it simple.
On a piece of paper, write your Controlling Idea at the top and then create four sections to fill in with the following headers:  Intent, Obstacle, Plan, Result.
Outline the main ideas for each section to get your thoughts organized and you'll start to get a feel for the flow of your presentation.
The Intent & Obstacle open the story loop in the minds of your audience and then the Plan & Result will close it for them.
From your outline, you can refine each section, starting to get the words in place that you'll use to convey each part of your presentation.
Using this framework will organize your thinking and create a positive flow for your Presentation that will make it easy for your audience to process.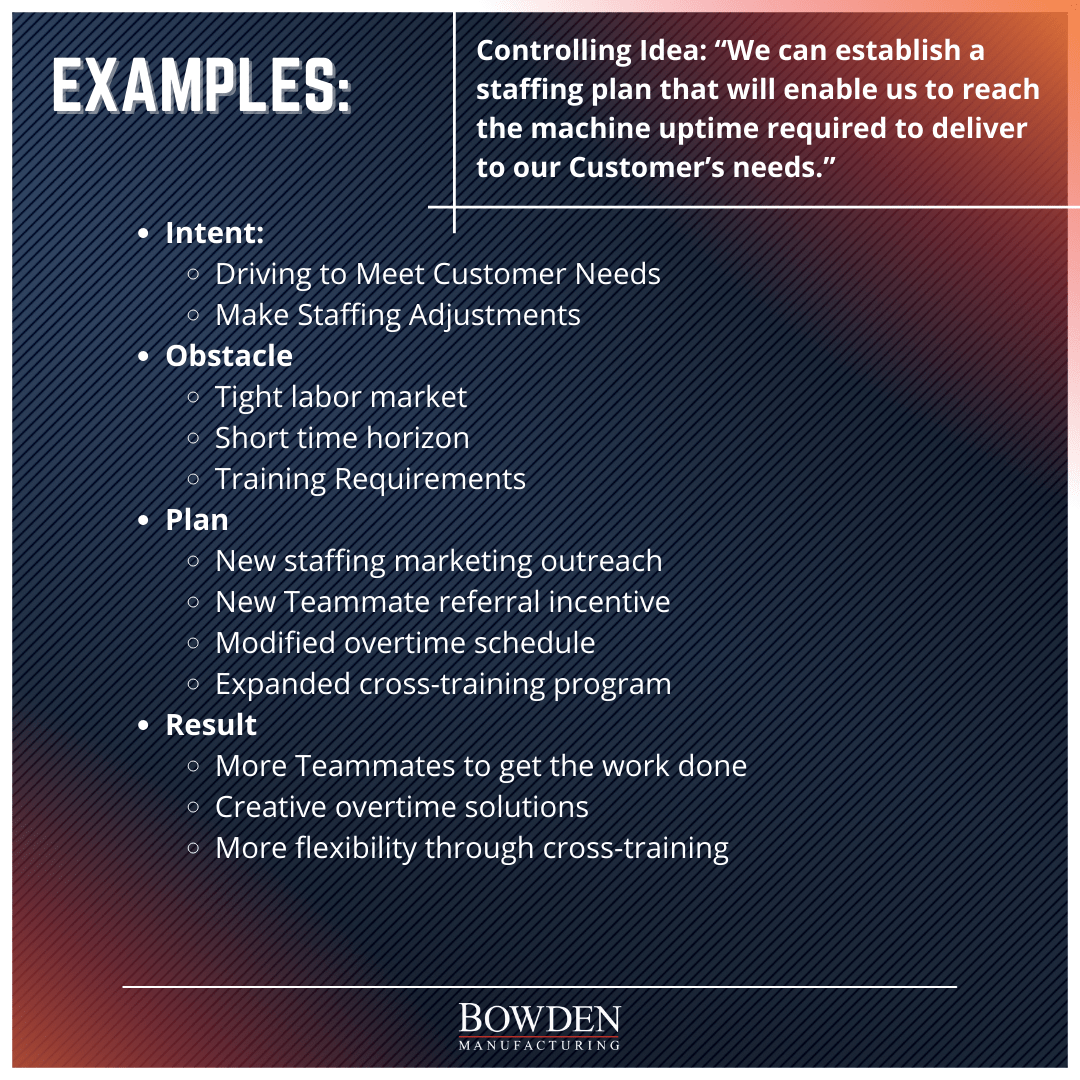 3. Establish the Strong Conclusion to Your Presentation
Now that you've got the meat of the Presentation written, it's time to deliver a strong finish.  If done well, the conclusion to your Presentation will ensure that your ideas will linger in the minds of your audience long after you're done.
Your finish should consist should have three strong elements:
The Result – You've outlined and written the Result, but now you want to review it for clarity and language.  The more clearly you can describe the details of the Result, the better the audience can imagine it.  An important way to do that is to ensure you're using visual language.  Paint a picture with your words that the audience easily imagines, and they'll be more inspired to reach it.

The Call to Action – In part of your Plan, you ought to be engaging your audience with what you need them to do as a result of your Presentation.  Reiterating this Call to Action as you're finishing your presentation will have it fresh in their minds as you reach the conclusion.

The Controlling Idea – Since the Controlling Idea is the most important idea in the Presentation, you'll want to end by reiterating it for the audience.  You don't want any opportunity for confusion by the audience, if they only take one idea away from your Presentation, it's the Controlling Idea.  End with it and they will carry it with them afterward.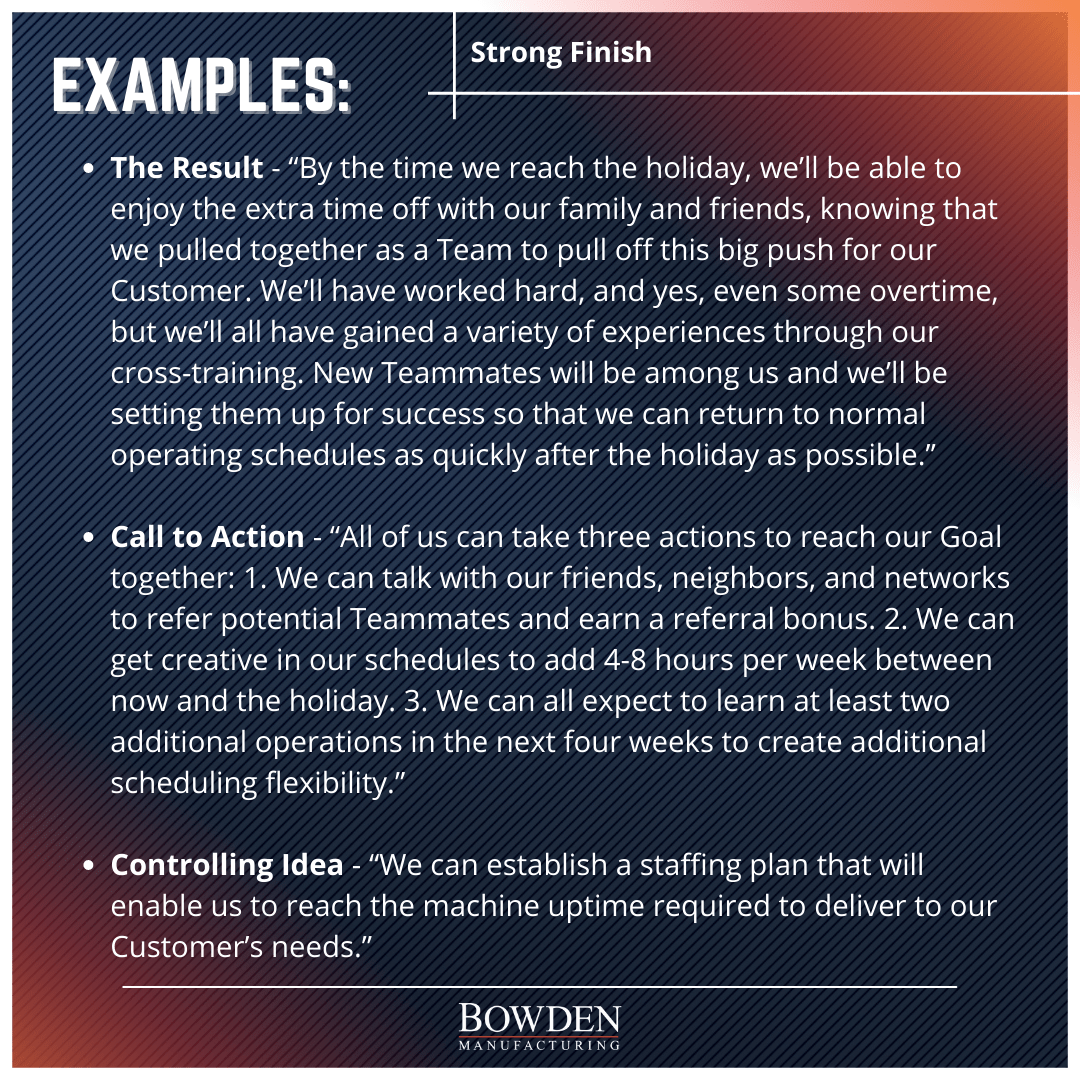 The Finishing Touches
Now you've got all the elements for a great Presentation.  Even if you stumble, you'll be okay, as the framework will ensure that you've got a good flow to the information you're sharing.
Try it out using the framework in smaller-scale situations first, just to get the hang of it. For bigger Presentations, practicing beforehand will help, especially if it's for a larger audience or on a subject that's important to you.
You can do practice alone, just make sure you are speaking out loud.  You can also try it on a friend, or take a video of yourself to review.  Repetitions will definitely help and you're likely to make adjustments as you go.
Spend more time on the beginning and the end, as they are the most important parts of the Presentation.  A solid beginning will help you get settled and remove any lingering nervousness.  As we've already discussed, a strong finish will ensure your ideas will stick with your audience and inspire them to action.
As a Manufacturing Professional, you can deliver strong Presentations and it will earn the respect of others while getting your ideas across in a memorable fashion that will inspire action from your audiences.  The framework will help you organize your ideas, remove any nervousness, and have you set up for success.
Next week, we'll take a deep dive into step number one: the Controlling Idea, where we'll dig into one of the most common problems presenters make – throwing too many ideas at the audience so that none of them stick after the Presentation is over.
Get Connected
Bowden Manufacturing's highly trained team of manufacturing experts is proud to offer the highest quality industry parts and friendly, reliable service at a competitive price.
Learn more about custom part manufacturing and get your FREE quote!